FRENCO News 01-2020
We are very happy to be able to send you the first FRENCO newsletter today.
In future, this will appear two to three times a year and you will be regularly updated with news supply from the FRENCO world (e.g. product information, trade fair and seminar dates, etc.). In addition, the section "Did you know already …" offers interesting and curious things from the Gear world, today: the natural gear mechanism of the cicada. Simply fascinating!
If you want to receive the FRENCO News regularly (maximum three times a year) in the future, then please register here. THANK YOU!
---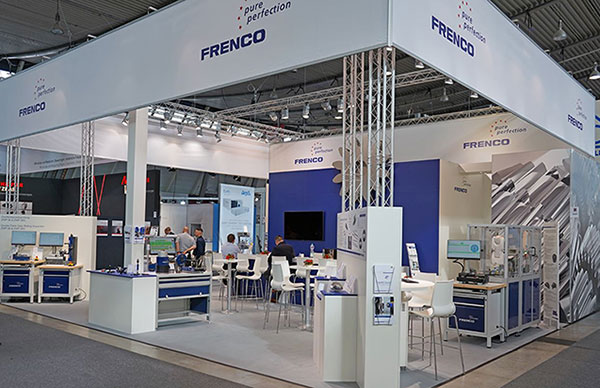 Virtual Control
We would have been delighted to serve you apple strudel and coffee at the CONTROL show in Stuttgart again this year and show you our new products. Due to the current situation, the CONTROL could not take place this year.
Take a look at the virtual CONTROL from the trade fair provider Schall and see a brief overview of what we would have shown you at our booth.
If you have any questions, please contact our sales department at sales@frenco.de. We are looking forward to your message
---
The current delivery times at FRENCO
FRENCO has expanded the machine park.
This enables us to offer very short delivery times on the market for standard gauges:
Gear gauges according to the FRENCO INO system: 6 weeks
Master gears: 10 weeks
AVM / IVM 1x1 measuring devices: 10 weeks
AVM / IVM nx2 measuring devices: 12 weeks
---
20 years DKD / DAkkS
Hard to believe, but true! Our FRENCO measurement laboratory is celebrating its 20th anniversary of the DKD / DAkkS accreditation this year! During this period, the FRENCO measurement laboratory carried out around 300,000 measurements, including DAkkS and factory calibrations.

We are also proud that we are the DAkkS laboratory with the smallest measurement uncertainties for gear measurements worldwide. We achieve this through a quality management system tailored to Frenco, through constant expansion and investment in the technical equipment (new air conditioning, measuring machines, etc.) and of course with the help of our motivated and highly trained staff. A list of the measurement uncertainties currently applicable to FRENCO and a sample calibration certificate can be found here.
---
News from the FRENCO team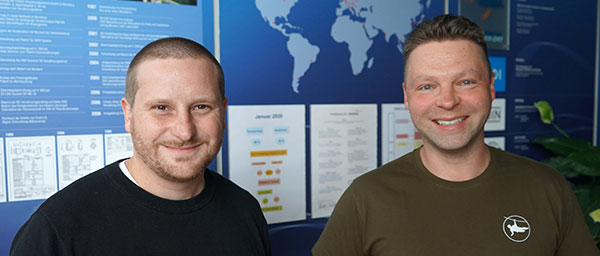 The following changes occurred as of January 1, 2020:
Philip Jukl (left in the picture) strengthens the management and Johannes Ziegler is the new sales manager at FRENCO.
---
Did you know already …
that nature first invented the gear?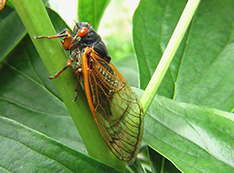 Researchers have found that the hind legs of young beetles have a natural gear system. This consists of two gears with about ten to twelve teeth. They ensure that the hind legs of the cicada can be precisely synchronized when jumping. Incidentally, the older animals no longer need this aid, they use targeted nerve impulses for it. Fascinating!
Read more about this in the SCIENCE magazine.
---
Registered for the FRENCO news?
Here you can sign up. We look forward to you!
See you soon! Your FRENCO team